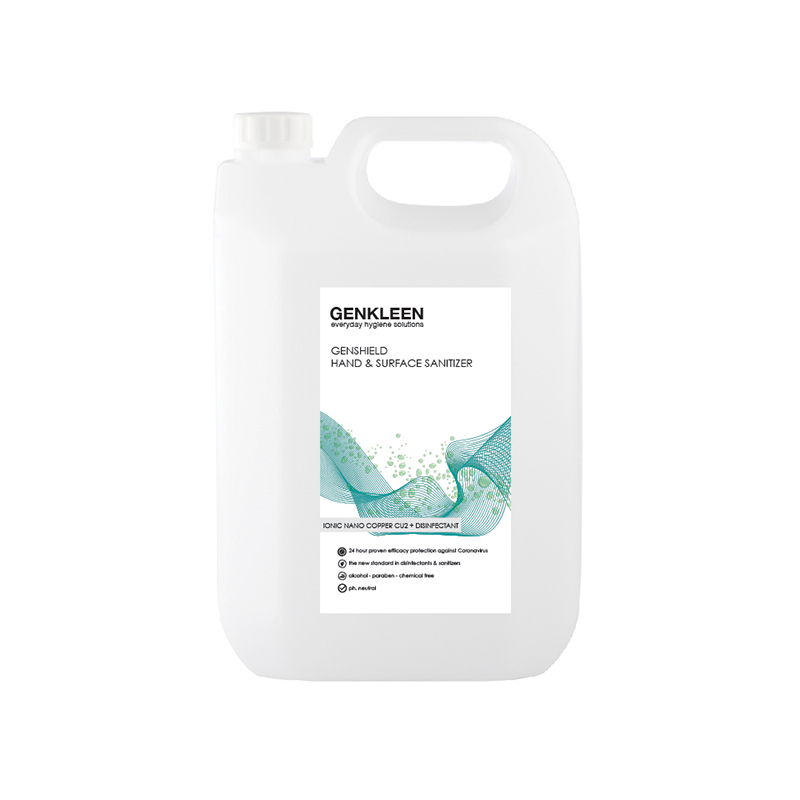 GENSHIELD HAND & SURFACE DISINFECTANT
GenShield is a liquid, all-natural solution containing Ionic Cupric Copper & Pure Deionized Water. GenShield is proven to disinfect and sanitize hands as well as hard & soft surfaces. Gentle on all skin types and 100% safe for use on children.
Proven 24 hour efficacy against Corona Virus in China, Malaysia and Singapore. SANS/BEIJING UNIVERSITY/UNIVERSITY MALAYSIA – INSTITUTE OF HEALTH & COMMUNITY MEDICINE reports available on request. Tested Pathogens: • Staphylococcus Aureus • Escherichia Coli • Salmonella Typhimurium • Corona Virus.
Instructions For Use
Ready to use, do not dilute. Spray directly onto hands and surfaces e.g. face masks, clothing, office & home furniture, door handles, vehicle interiors and all other surfaces.
Ingredient List
Ionic Cupric Copper, Deionized Water.
Storage
Keep out of reach of children, pets and uninformed persons.
Store in a cool, dry place and ensure the lid is tightly secured. Check the product for any leakages.
Health & Safety
External use only.
In case of accidental contact with eyes, rinse immediately with cold water and seek medical advice.